Taylor
Made Kits
Our cases, holsters and boards are available as kits with a belt or shoulder straps. More value for your money!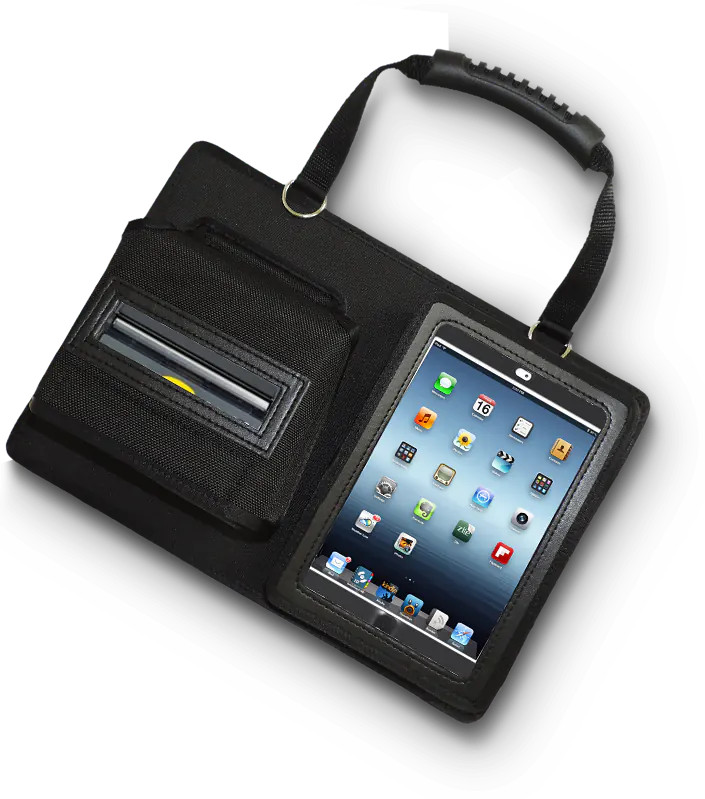 offers innovative solutions for mobile, manufacturing, distribution, retail and field service.
Our products include cases, holsters, and vehicle mounts and we create them to go with your electronic devices, barcode scanners, and printers. We can customize our cases or holsters to add pockets, d-rings, stylus holders, or any other feature that you will find beneficial for your business. Our cases, holsters, and mounts fit most Brother, Apple, Honeywell, and Zebra units among other devices. Our products can mount to your vehicle, forklift, handcart, or even your wrist. They can attach to a retractor, a belt, or strap for easy use. Please browse around & feel free to reach out with any questions, we are glad to help! We look forward to hearing from you!
We Don't Just Create Cases,
We Create Solutions.
Since 2003, Taylor Made Cases has been creating solutions for your mobile handheld needs. Taylor Made Cases – Cases & Holsters for Electronic Scanners & Printers. Contact us today and find out how we can "Taylor" a solution for you!
What Our Customers Are Saying
"We purchased these cases for an Intermec PB42 (printer) and a Intermec CK61 (handheld). We deliver Anheuser-Busch products in sunny Tampa Florida. These boards have survived constant heat, on dash boards, in coolers, on the truck floor boards. They have held up remarkably well, so thanks for the excellent craftsmanship. Amazingly, we still have a few left seven years later. The product speaks for itself and your customer service has been 1st class."
Walter Stewart
Team Pepin, Tampa, Florida
"JJ Taylor Distributors would like to express our sincere appreciation for your service to us as one of our most reliable suppliers. Taylor Made Cases have provided the highest quality products with even better customer service. Though we are a new customer our orders and deliveries are often received earlier than expected. And the quality of the product and workmanship has been exception ! We look forward to working with Taylor Made Cases for many years to come and hope you will continue to provide such excellent service. Thank you for all the extra effort Taylor Made Cases have put into making our Projects a success. We look forward to this continued partnership for the years to come."
"As a solution provider, we need to find innovative products, competitive pricing, and project-friendly lead times. Taylor Made is our go-to partner for all the above and they do it with a smile!"
Our Latest News / Articles
In the midst of the COVID-19 pandemic, it is more important than ever to properly sanitize the equipment we use daily. We have put together a few tips to help you sanitize your Taylor Made Cases solutions. Hand wash with soap/water and air dry.Machine wash on delicate, but do not machine dry.Clean with alcohol or […]
Pepperidge Farms is upgrading your equipment. Do you need to update your carrying board? We can provide a solution for any of your printer and hand-held needs. Use the link below to see all the products that we offer to Pepperidge Farm vendors. Click Here for All Pepperidge Farm Products Give us a call or […]
Do you want to see the inside of our facility? Get a glimpse of how our products are made? Come check it out! If you have any questions about our products or how it's made, feel free to reach out here or give us a call at 919-209-0555.
Featured Taylor Made Cases Product Brands
Can't Find What You Are Looking for or Want

Something Customized?